---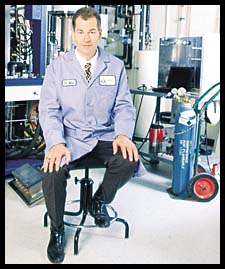 Dr. Randell L. Mills
Dr. Mills, Founder and principal stockholder of Brilliant Light Power, Inc., has served as President, Director, and Chairman of the Board since 1991. The Company, located in the Princeton, NJ, area, has developed a revolutionary source of energy, the BlackLight Process, which has as its fuel source hydrogen and is based on novel hydrogen chemistry.
Dr. Mills has participated in over 50 presentations at professional meetings, and authored and co-authored over 100 papers regarding the field of energy technology that have been published in or submitted to peer-reviewed journals of international repute. Dr. Mills has received or filed patent applications in the following areas: (1) hydrogen energy technology; (2) Millsian computational chemical design technology based on The Grand Unified Theory of Classical Physics (GUT-CP), a revolutionary approach to solving atomic and molecular structures; (3) magnetic resonance imaging; (4) Mossbauer cancer therapy; (5) Luminide class of drug delivery molecules; (6) genomic sequencing method, and (7) artificial intelligence. A thorough description of the Company's technology and Dr. Mills' underlying atomic theory is published in a book entitled "The Grand Unified Theory of Classical Physics".
Dr. Mills was awarded a Bachelor of Arts Degree in Chemistry, summa cum laude and Phi Beta Kappa from Franklin & Marshall College in 1982, and a Doctor of Medicine Degree from Harvard Medical School in 1986. Following a year of graduate work in electrical engineering at the Massachusetts Institute of Technology, Dr. Mills began his research in the field of energy technology.